Implementation of IT systems
Our Conviction in the Field of IT System Implementations
We support our customers from the strategy-level identification of a business need to the operating IT system throughout the full life-cycle of the implementation of a new IT system.
We formed our general approach towards the implementation of IT systems by adopting the waterfall and the agile project management models and by using our more-than-a-decade-long experience in the field. Of course, we customize our methods to our customers' needs in every project. Based on our experience, the client's expected results (a well-operating system, that supports the business functions effectively) can be reached with the highest efficiency by using the following approach: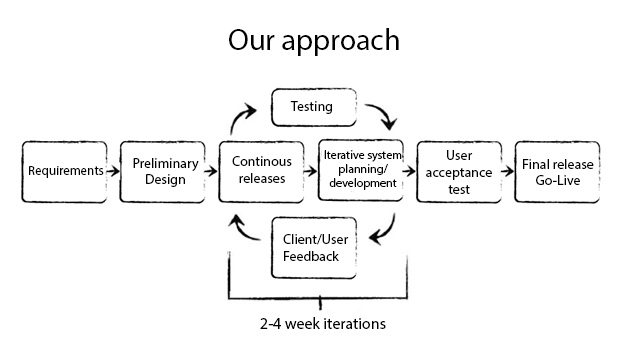 We apply the above process flow during our IT system implementations and system development projects.
The most typical activities during the support of system implementations
In the context of IT system implementations, we perform the following activities in line with the project life-cycle:
Strategic and technical preparation of the projects, business case creation
Professional support of the selection of the system and its supplier
Creation of requirements list, Business Blueprint development
System and process design
Project management (with agile and traditional approach)
Project product and process QA
Security and access management
Migration management
Setup and professional support of the release management
Business process re-engineering, the reorganization of the related control system
During the execution and leading of projects, we pay extra attention to the following elements to make sure they get into the aim, scope and priority of the projects:
System integration
Change management
Test management (the related activities, as one of our featured service, can be found more detailed under the 'Test Management, Testing' menu)
Implementation of Business-Critical Systems
In recent years, we have successfully implemented the following systems additionally to supporting the implementation of other systems. Based on these experiences, we are ready to undertake the full implementation of these systems:
Implementation of BI solutions
Our experts have been leading/participating in Business Intelligence implementation projects and at multinational companies in several sectors.
Regarding BI, we are able to provide complete solutions that fulfill our customers' needs in the following main areas:
Identifying business needs, concept creation
Designing self-service BI solutions
Data modeling
Implementing data warehouse and data market (back-end)
ETL process design
Front-end implementation of new generation data analysis tools (Qlikview, Tableau)
Data quality assurance
Test Management, Test Execution
The main goal of our test management activities is to ensure that the future solution is meeting the pre-defined requirements and goes into productive operation properly. We manage the complete process from test preparation to user acceptance tests.
Based on our partner's needs, we can also provide testers for projects.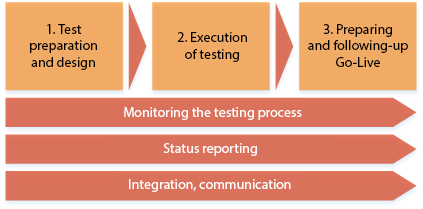 The main testing support tasks of the respected project phases are summarized below.
Test Preparation and Planning
Scheduling and selection of the appropriate test types
Preparation of the detailed test concept
Supporting the creation of test cases, test steps and test scenarios
Validation of test cases
Test plan/schedule coordination and preparing the schedule
Preparation of the test management support tool (e.g. SPS, Lotus Notes PIT database, SAP Solution Manager, etc.)
Collecting test data from Testers
Test environment management: test system, data environment, access management for test systems
Test Execution
Coordination of the testers
Continuous tracking of progress, test documentation and deadlines
Following-up upcoming issues, manage and support issues/patches
Test administration control (both IT and business side)
Supporting testers' resource allocation
Supporting the management of testers' problems
Beyond the tests where user contribution is needed, our experts provide the following:
Undertaking stress tests and performance measurements
Running and preparing automated tests
Go-Live Test Preparation, Execution and Follow-Up
Preparing and supporting the testing of the operational system
Supporting external auditors in auditing the delivered system
IT Security
In the next decade, companies, organizations and public organizations will devote more time and budget to security than they have ever done before.
Natural disasters, terrorist attacks, cyber delinquency, infrastructure interruptions and last but not least the (voluntary and non-voluntary) causation of damage at critical places coming from inside the company. It brings critical risks and challenges every day for business and IT leaders alike.
The lack of IT Security can cause serious damages, this is how IT risks have become business risks today. Besides the companies' own interest, there are more and more regulations regarding to IT security, that a company has to comply with. Compliance with these regulations has become a top priority for companies.
As a company who considers IT security essential, we know the scale of IT security risks and constantly follow the latest methods and technologies in order to be able to predict and effectively prevent potential IT risks.
We developed (and are continuously developing) our IT security portfolio, keeping the regulations, market and business needs in mind. Our primary IT security services are the following:
IT security assessment and preparation for audit (ISO27001, 77/2013, 42/2015)
Assessment, design and configuration of IT security solutions
Business Continuity Planning and Disaster Recovery Planning (BCP, DRP)
Creating IT security policies
Ethical hacking
Forensics
Special services tailored to our clients' needs
We are looking forward to discuss how we can help your company to overcome its IT security challenges.
Training and Education
Based on our more-than-a-decade-long experiences and our successfully finished projects, we highlighted some professional areas which we can keep training sessions about.
Highlighted areas which we have conducted and still conduct trainings about:
IT project management (agile and traditional approach)
Test management
Data modeling
IT security awareness
It would be our pleasure to organize training sessions, consultations and workshops in other topics as well relating to IT consulting, software developing and operation fields.
We welcome any inquiry related to the above-mentioned fields.
Main references - IT consulting